TOP NEWS
"Son, stand up, the war has begun"
ReportThe volunteers of the Lubart battalion train in the event of Russian or Belarusian attacks and to go and fight in the east.
"My mother is crying, but she understands that I have to fight for our freedom. » The sentence is pronounced with terrible sincerity by an 18-year-old boy armed with a machine gun, at the entrance of an abandoned Soviet building. A month earlier, Roma Papenko was studying international relations in Lviv. But war broke out. Gone to take refuge in Loutsk, in the north-west of the country, he is now part of a battalion of young volunteers who have taken up arms to defend Ukraine against Russian forces.
Read also
Article reserved for our subscribers

In Loutsk, the fear of a Belarusian attack
At his side, in the same military uniform, Vadym Panko, 18, remembers the phone call from his father at dawn on February 24: "Son, stand up, the war has begun. » Since the two joined this territorial defense battalion, a military unit attached to the Ukrainian army, their days have passed between training and the checkpoints they guard, at the entrances to the city of Lutsk. "These guys are our brothers in arms," assures Roma Papenko, pointing to the rest of the group, about twenty young men lined up, wearing a military badge representing a skull set with a crown. "We trust them and if war breaks out in the region, we will give them our lives. »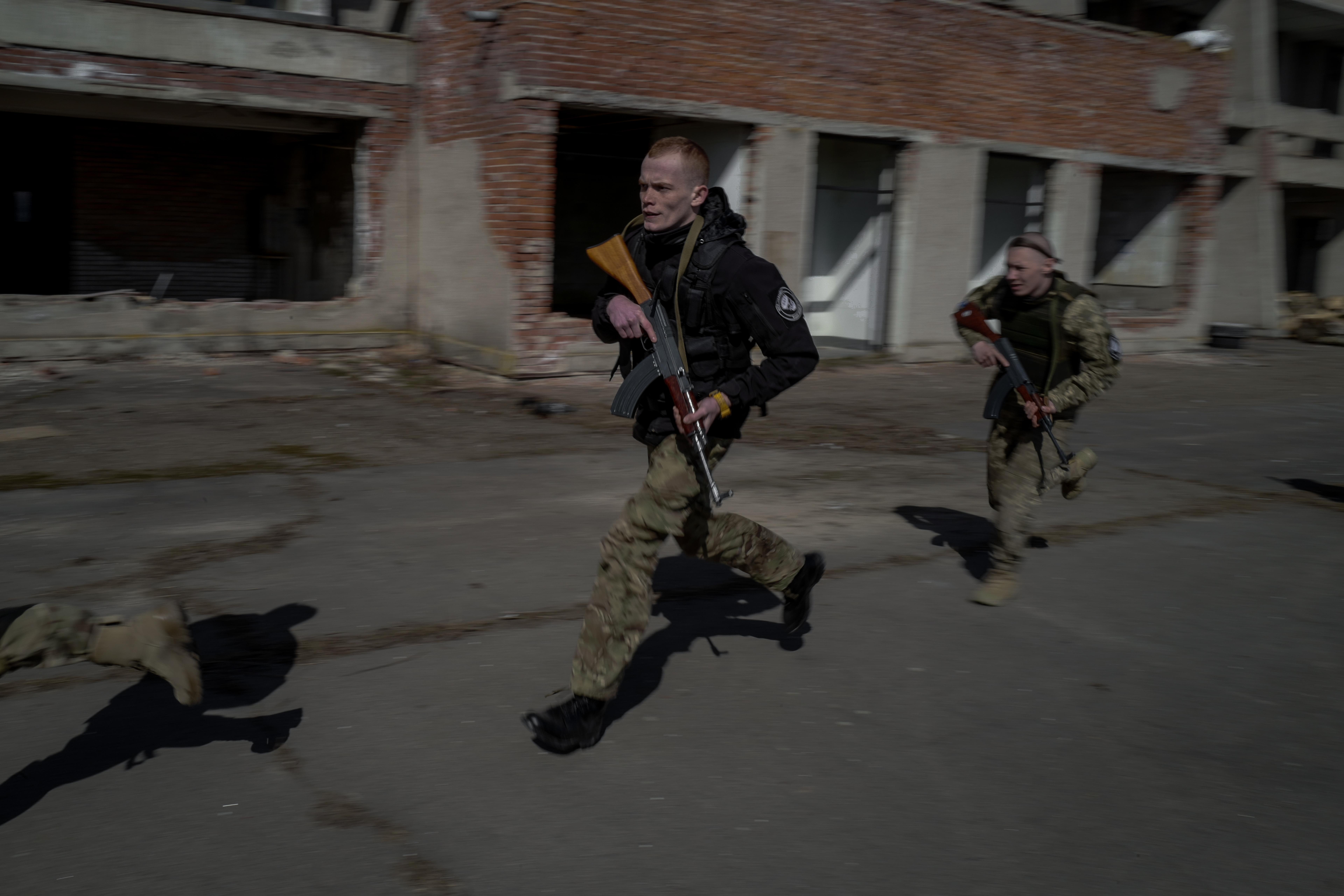 Sunday, March 20, under an immaculate blue sky, the recruits of the Lubart battalion of Loutsk are training for urban combat in the oblast (region) of Volhynia, in the middle of the fields. "It's pretty quiet at the moment, so it's hard to say if they're ready," loose a man, whose only eyes appear, between a bucket hat and a brown neck warmer. "They have no military experience, he said, observing the youngsters, some of whom still had teenage faces, busy loading and unloading their weapons. But they are motivated. That is the most important. »
Read also
Article reserved for our subscribers

In Mykolaiv, life under the threat of Russian weapons: "Tell the others that from now on we will shoot without warning"
The instructor prefers not to give his identity. However, he said that in 2014, at the start of the war triggered by the Maidan revolution between the Ukrainian army and the Russian-backed separatists, he was fighting in the Azov regiment, a nationalist paramilitary unit. When the Russian invasion of February 24 began, it was old acquaintances of this unit who contacted him to create a battalion of volunteers for the city. Its commander, Andriy Diachenko, a brunette with a tight smile, also fought in an Azov unit. He was in Mariupol, then besieged by pro-Russian Ukrainian separatists, in 2015 and 2016.
You have 61.66% of this article left to read. The following is for subscribers only.