TOP NEWS
violence contained but anger intact
The anger of the Corsican street does not weaken, ten days after the funeral of Yvan Colonna, attacked in detention on March 2 and died on March 21. Sentenced in 2011 to life imprisonment for the assassination in 1998 of the prefect Erignac, he was erected as a political martyr by the nationalists.
Several thousand demonstrators – 4,000 according to the prefecture and 14,000 according to the organizers – marched on Sunday, April 3, in Ajaccio behind a banner that has become customary, "Statu inglese assassinu", (the French state is an assassin), held, among others, by the brother of the nationalist, Stéphane Colonna, who had called for this rally on social networks.
Read also:
Article reserved for our subscribers

The day after the burial of Yvan Colonna, Corsica still under high tension
In the procession, most of the nationalist families did not mix, the Simeoni clan remaining grouped around the president of the executive, the supports of his most virulent opponent, Jean-Christophe Angelini, standing apart. The former separatist president of the assembly of Corsica, Jean-Guy Talamoni, and the militants of Corsica Libera were more scattered and included in their ranks Charles Pieri, one of the pillars of the National Liberation Front of Corsica. Paul-Félix Benedetti's Core in fronte party, which has a large number of active militants in the streets, formed a bloc at the vanguard.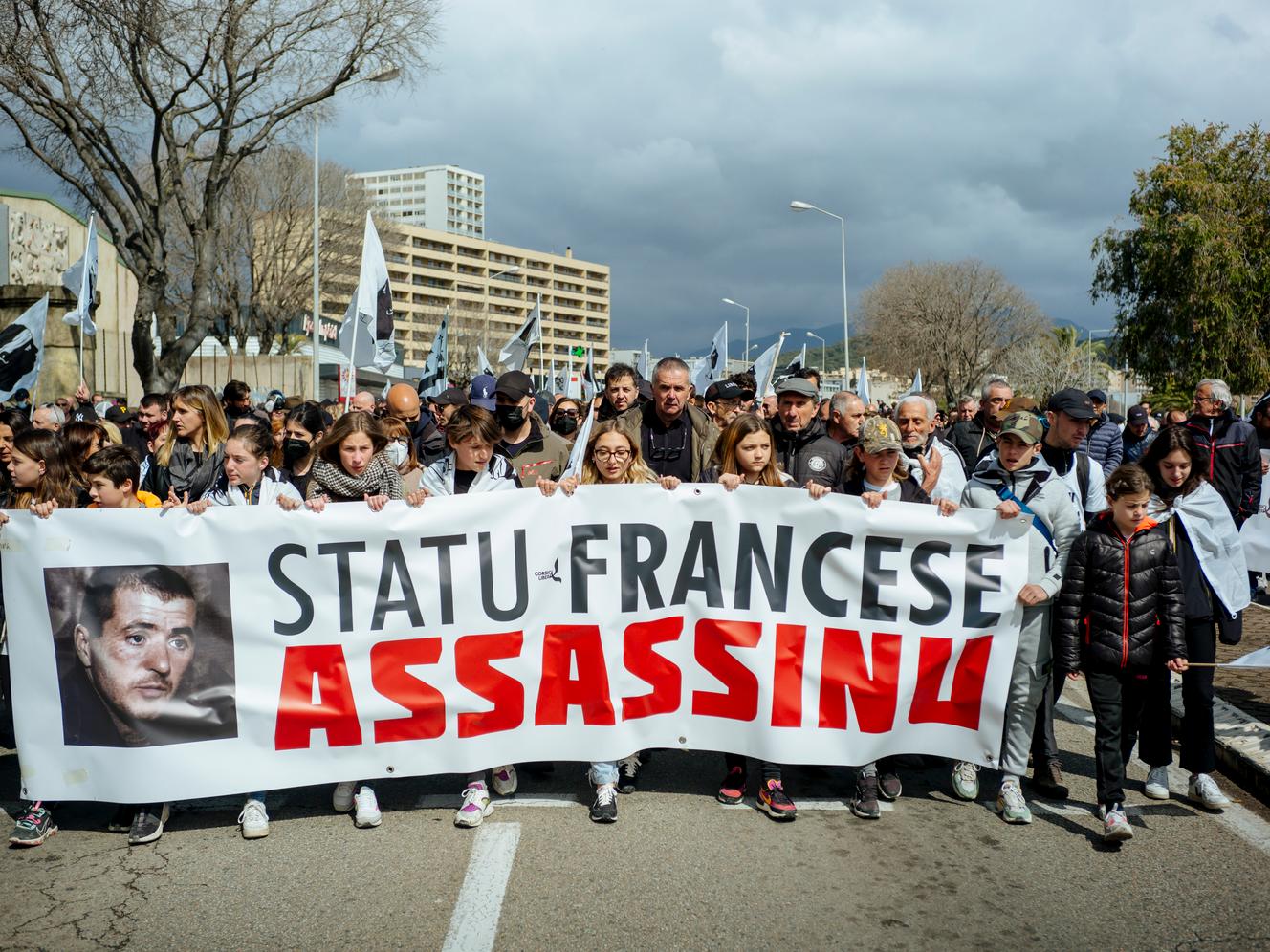 Among those who advanced in the procession, sometimes alternating anti-French slogans with nationalist songs, one could distinguish under a cloud of white flags with heads of Moors members of the Erignac commando, student trade unionists or families who had come "for Ivan". "For History". Or "Because it's time to bend the state". "The revolt of the street is legitimate when a State does not respect the law: our demands, in particular on the recognition of the Corsican people, are ignored"supports Pasquale Picoury, student trade unionist of the Ghjuventù indipendentista, who also came "to demand justice and truth for Yvan".
Molotov cocktails and homemade bombs
As in March in Corte, then in Bastia, the demonstration was the chronicle of an announced riot. "Thank you for paying tribute to Yvan, now everyone is free to do what they want", soberly indicated a message from the Colonna family at the end of the demonstration on the place du Diamant, in the center of Ajaccio.
A small group of 150 to 200 rioters hooded and dressed in black, sporting an orange armband then rushed to the prefecture and the police station to flood them with Molotov cocktails and homemade bombs. The prefecture said in a statement that the police had also "came under alarm pistol fire". In the morning, road checks had allowed the seizure of pétanque balls, iron bars or hatchets. "But no protester was arrested before or after the demonstration"reports a police source.
You have 51.28% of this article left to read. The following is for subscribers only.